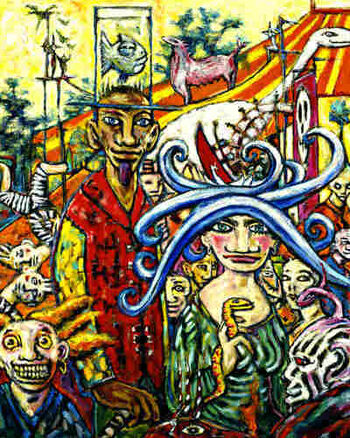 The Isle of Babilonium
is one is the Islands of Abarat, and lies at six o'clock in the evening.
In the books
Edit
Role in the AbaratEdit
Role in Abarat: Days of Magic: Nights of WarEdit
Role in Abarat: Absolute MidnightEdit
Geography
Edit
SettlementsEdit
The island is known as among the greastest tourist attractions in the Abarat. A giant carnival takes place in which carnival rides, comedic plays, freak shows and other forms of entertainment are found. It it sometimes known as the "Carnival Island"
Inhabitants
Edit
Ad blocker interference detected!
Wikia is a free-to-use site that makes money from advertising. We have a modified experience for viewers using ad blockers

Wikia is not accessible if you've made further modifications. Remove the custom ad blocker rule(s) and the page will load as expected.